Main content starts here, tab to start navigating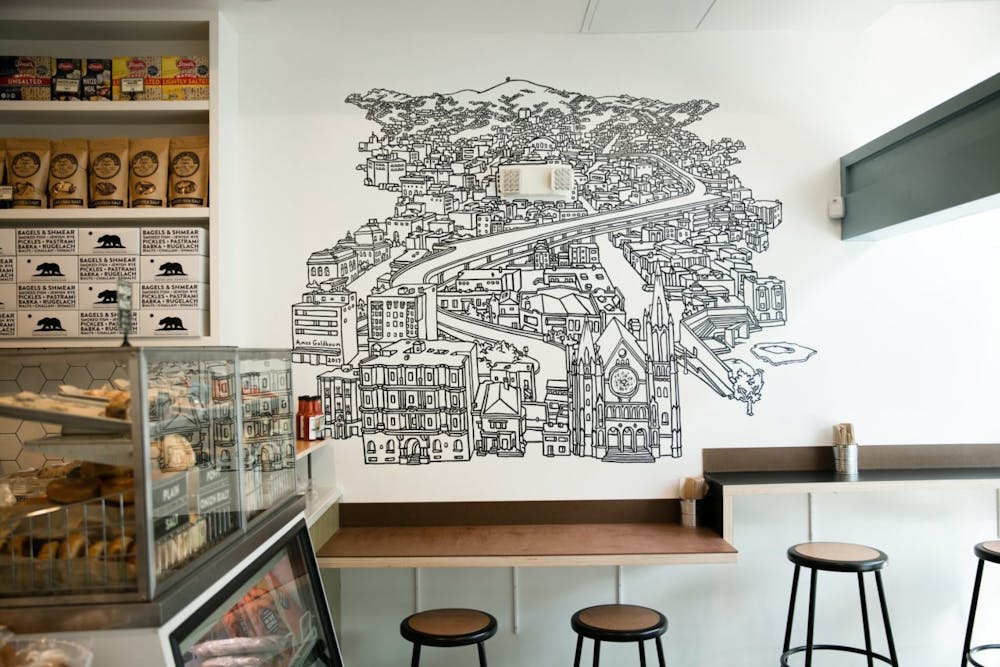 Our shop in the heart of Hayes Valley is serving bagels, classic deli sandwiches, coffee, pastries, and other traditional treats all week long – see you there!
COVID UPDATE: We are currently only offering food packed to-go for pickup and delivery. We are also offering limited outdoor seating in our parklet. We are NOT offering indoor dining at this time.
Menu
Signature Sandwiches

all sandwiches served with pickles

Add A Side

potato salad or coleslaw + $3

fries + $4

Choice of Meat

PASTRAMI: coriander & pepper crust, smoked over real hickory

CORNED BEEF: brined with garlic & a special blend of spices

SMOKED TURKEY: brined & lightly smoked turkey breast

The Classic

sliced hot & served on our double-baked rye $12

The Reubens

OG: russian dressing, swiss & sauerkraut $13.50

The No. 19

our tribute to Langer's Deli in LA! served with coleslaw, russian dressing & swiss on rye $13.50

Smoked Trout Salad

with leaf lettuce, tomato & red onion on rye $12.50

Club

smoked turkey, crispy pastrami, smashed avocado, red onion, tomato, lettuce & horseradish mayo on toasted challah $13.50

Potato Latkes

with sour cream & house-made applesauce

one $4

two $8

three $11

Latke Supreme

one latke with smoked salmon, hippie greens, pickled onion, salted cucumber, radish, lemon & sour cream $13

Soups & Salad

Matzo Ball Soup

not as good as your bubbe's $9

add challah toast + $1.50

Hillcrest Salad

smoked turkey, crispy pastrami, hard-boiled egg, pickled onion, salted cucumber, radish, swiss & everything spice over hippie greens with lemon vinaigrette $15

Sides

Potato Salad

$3.50

Coleslaw

$3.50

Sweets & Pastries

Babka

chocolate or cinnamon

slice $4

loaf $13

Rugelach

chocolate, apricot or cinnamon-walnut $1.25

Chocolate Chip Cookie

$2

Cold Beverages

Lemonade

$3.50

Orange Juice

$4.50

Apple Juice

$3

Black Iced Tea

$3.50

Mexican Coke

$3.50

Diet Coke

$2.50

Black Cherry

$3.50

Topo Chico

$3.50

Toasted Bagels

Everything | Sesame | Poppy | Plain | Onion | Salt & Pepper | Bialy | Cinnamon Raisin

each $2

half dozen $11

dozen $20

Add-Ons

tomato, radish, salted cucumber, red onion, leaf lettuce or capers each + $0.50

smashed avocado + $2

crispy pastrami + $2.50

impossible breakfast sausage + $4

Bodega

eggs, melted cheese & garlic aioli $7.25

Lumberjack

eggs, crispy pastrami, swiss & maple syrup on a toasted cinnamon raisin bagel $8

Crunchy Spice

eggs, everything spice chili crisp, greens, melted cheese & garlic aioli $8

L.E.O.

eggs, smoked salmon & scallion shmear $11

Classic Smoked Salmon

smoked salmon with capers, red onion & plain shmear

closed $11

open $13.75

Veggie De-Luxe

veggie shmear, salted cucumber, red onion, hippie greens & capers $8

Bagels & Shmears

Plain Shmear

$3.50

Veggie Shmear

$4

Scallion Shmear

$4

Smoked Salmon Shmear

$4.50

Spero Vegan Sunflower 'Cream Cheese'

$4.50

Organic Butter

$3

Smashed Avocado

$4

Organic Berry Preserves

$3.50

Almond Butter

$4.50

Coffee & Tea

Hot Drip Coffee

$3.50

Iced Coffee

$4

Latte

$4

Chai Latte

$4.50

Vanilla Latte

$4.50

Cappuccino

$3.50

Mocha

$4.50

Hot Chocolate

$4

Hot Tea

$3