Main content starts here, tab to start navigating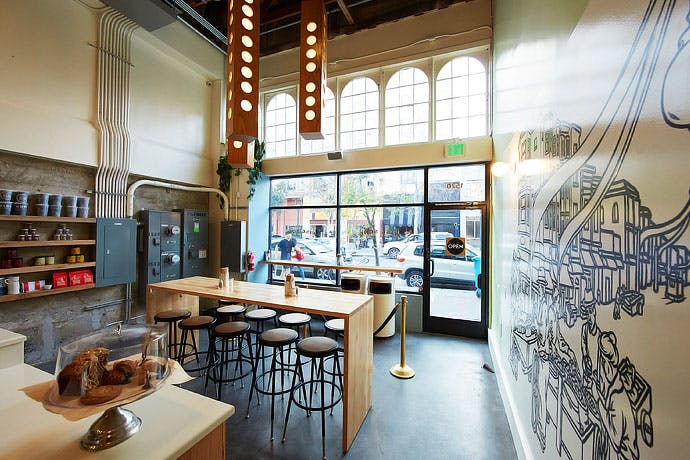 Our Fillmore Bagel shop occupies the storefront of our Bakery & Commissary kitchen in the historic Fillmore District, once the hub of San Francisco's Jewish Community. This is a great spot mid-city to grab a toasted bagel or hot deli sandwich, sip on an espresso, and stock up on our fresh baked breads and deli favorites to enjoy at your home or office.
COVID UPDATE: We are currently only offering food packed to-go for pickup and delivery. We are NOT offering indoor dining at this time.
Menu
Signature Sandwiches

all sandwiches served with pickles

Add A Side

potato salad or coleslaw + $3

Choice of Meat

PASTRAMI: coriander & pepper crust, smoked over real hickory

CORNED BEEF: brined with garlic & a special blend of spices

SMOKED TURKEY: brined & lightly smoked turkey breast

The Purist

sliced hot & served on our double-baked rye $12.50

The Reubens

OG: russian dressing, swiss & sauerkraut $14

The No. 19

our tribute to Langer's Deli in LA! served with coleslaw, russian dressing & swiss on rye $14

Smoked Trout Salad

with leaf lettuce, tomato & red onion on rye $12.75

Club

smoked turkey, crispy pastrami, smashed avocado, red onion, tomato, lettuce & horseradish mayo on toasted challah $14

Potato Latkes

with sour cream & house-made applesauce

one $4

two $8

three $11

Latke Supreme

one latke with smoked salmon, hippie greens, pickled onion, salted cucumber, radish, lemon & sour cream $13

Soups & Salad

Matzo Ball Soup

not as good as your bubbe's $9.50

add challah toast + $1.50

Hillcrest Salad

smoked turkey, crispy pastrami, hard-boiled egg, pickled onion, salted cucumber, radish, swiss & everything spice over hippie greens with lemon vinaigrette $13.50

Sides

Potato Salad

$3.50

Coleslaw

$3.50

Sweets & Pastries

Babka

chocolate or cinnamon

slice $4.50

loaf $15

Rugelach

chocolate, apricot or cinnamon-walnut $1.50

Chocolate Chip Cookie

$2

Cold Beverages

Lemonade

$4

Orange Juice

$6.50

Apple Juice

$3

Black Iced Tea

$3.50

Mexican Coke

$3.50

Diet Coke

$2.50

Black Cherry

$3.50

Topo Chico

$3.50

Toasted Bagels

Everything | Sesame | Poppy | Plain | Onion | Salt & Pepper | Bialy | Cinnamon Raisin

each $2

half dozen $11

dozen $20

Add-Ons

tomato, radish, salted cucumber, red onion, leaf lettuce or capers each + $0.50

smashed avocado + $2

crispy pastrami + $2.50

Bodega

eggs, melted cheese & garlic aioli $7.25

Lumberjack

eggs, crispy pastrami, swiss & maple syrup on a toasted cinnamon raisin bagel $8.50

Crunchy Spice

eggs, everything spice chili crisp, greens, melted cheese & garlic aioli $8

L.E.O.

eggs, smoked salmon & scallion shmear $11.50

Classic Smoked Salmon

smoked salmon with capers, red onion & plain shmear

closed $11

open $13.75

Veggie De-Luxe

veggie shmear, salted cucumber, red onion, hippie greens & capers $8

Bagels & Shmears

Plain Shmear

$3.50

Veggie Shmear

$4

Scallion Shmear

$4

Smoked Salmon Shmear

$4.50

Spero Vegan Sunflower 'Cream Cheese'

$4.50

Organic Butter

$3

Smashed Avocado

$4

Organic Berry Preserves

$3.50

Almond Butter

$4.50

Coffee & Tea

Hot Drip Coffee

$3.50

Iced Coffee

$4

Latte

$4

Chai Latte

$4.50

Vanilla Latte

$4.50

Cappuccino

$3.50

Mocha

$4.50

Hot Chocolate

$4

Hot Tea

$3